Malaga Spain
Considered "The City of Paradise" by Vicente Aleixandre, the capital of the Costa Del Sol enjoys one of the finest climates to be found anywhere in Europe.

The Alcazaba Fortress, the Cathedral and the Gibralfaro Castle are the three leading architectural lights, not forgetting the Malagueta Bullring, at the end of the Paseo del Parque.

Just next to the Alcazaba Fortress lies the uncovered Roman theatre. You can see this being lovingly restored to its former glory, and has now, justifiably, become one of the cities most treasured sites.

The majestic Christian processions which line the streets during Easter week and the August Fair offer the best opportunity to witness the city's most popular traditions, that are more than worthy of the visitor's attention.

The Verdiales Dance Festival held in the Malaga Mountains on 28 December is a more intimate affair.

Pictures of Malaga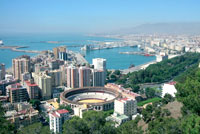 See more Malaga pictures.

Climate and location:
Málaga is the smallest of Andalusia's eight provinces. Its coastline forms part of the Costa del Sol, a special part of the Mediterranean. The climate is temperate, and the mean temperature is 22 C - from 16 to 19 in winter. This is due to the mountains that protect the coast from cold north winds.

Cuisine:
Fried fish is the favorite dish: fresh anchovies, red mullet, whiting, baby squid ... In addition there is a great variety of gazpachos (the typical cold vegetable soup) like ajoblanco, made with almonds and grapes. Also native to this area are angler fish soup and vegetable soup. A typical dish on the beach is Espetos, sardines grilled on spits of bamboo over charcoal. Sea bass and gilthead are prepared with salt; angler fish, with garlic.

Visits:
Outstanding in Málaga are the Baroque Cathderal and the Arab fortress, with a double wall and three interior palaces. The Museum of Fine Arts houses a collection from the 19th century and works by Picasso. Larios Street is the main business artery of the city. From the top of the Gibralfaro castle there are views of the city and the port. Benalmádena has a lovely, well-cared-for old town in the Andalusian style. The best of Mijas is its balcony, with a wonderful view of the sea. In Marbella visit the old town, surrounding the Orange Square, the Town Hall, the Casa del Corregidor, the jail and the hermitage of Santiago. A very different stroll leads one to the luxury housing estates of Puente Romano, Pinomar, Rincón Andaluz, Nueva Andalucía, Puerto Banús and Cabopino. No trip is complete without a visit to beautiful old Ronda. On the eastern part of the coast, Nerja has lovely little coves and its famous vantage point over the sea, the Balcony of Europe. Nearby are the famous Caves of Nerja. Inland, Fuengirola is a "white village", well cared for and clean.

Shopping:
Handicrafts abound in the province of Málaga. Outstanding are the esparto grass works from Antequera and Vélez-Málaga, the embroidery from Mijas, ironwork from Ronda, and tinwork from Vélez-Málaga. The flea markets at Fuengirola and Marbella are worth a visit.

Nightlife:
In Málaga, things happen around the beach of Pedregalejo. In Torremolinos, the pubs are on the Calle San Miguel and at La Nogalera; a classic disco is Palladium. At Fuengirola, Arena. At Marbella, there's a varied offering, intense and sometimes very secret: outstanding are Jimmy's Puente Romano, Oh Marbella and Joy, among the discos; and Old Joy's Pub and Menchu, for drinks.

Malaga Council
Address: Avd. Cervantes, 4. 29016. Malaga (Malaga).
Phone Number: +34 952 135 000.
Website (in English): www.malagaturismo.com.
View the map of Malaga.
Find more information about Malaga.