Marbella Spain
Over time, Marbella has become a magnificent town, which concentrates on offering a multitude of attractions such as beautiful beaches, golf courses, pleasure harbours like Puerto Banus, luxury Marbella hotels, restaurants, commercial centres and its unbeatable natural surroundings and the intense nightlife to its thousands of visitors. All this makes Marbella an inexhaustible place of enriching possibilities for body and mind, where life takes on a different meaning.

Pictures of Marbella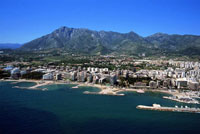 Visiting Marbella today means that you will prove straight way its spectacularly rapid change.

Marbella has become a clean, secure and beautiful town, offering a better quality of life to its visitors and inhabitants. In its constant search for new attractions, Marbella continues to progress, which places Marbella as the International City of Tourism, reclaiming the international acclaim it deserves.

Nobody befere would have ever imagined that Marbella could change the way it did and the way it still does. Now Marbella enjoys the best infrastructure and has converted itself into a place of high interest for investors. Creating in this way richness for the municipality and thousands of jobs for its inhabitants. At this moment, there is no way to take flights to Marbella, the only thing missing is the Marbella airport, although Malaga airport is just 30 minutes away from Marbella city, so it's not a big trouble to get to your hotel Marbella by booking a Malaga car hire, or Malaga airport transfers.

Above all, Marbella has a touristic vocation and that of a modern town in continuous progress. The fact that a lot of the designed projects improve the range of facilities and spare time activities, only strengthens the reality of Marbella, which year after year, has become the prefered destination of hundreds of thousands of tourists.

The character of the people of Marbella, cordial and welcoming also helps to make nobody feel like a stranger in your Marbella holidays. That's why a lot of people wish to spend its vacations on its Marbella villas and townhouses.

On the following pages we will show you some typical aspects and particular sites of Marbella, but if you do have a specific request or would like to consult us for whatever reason, you can always contact the local tourist office.

Marbella San Bernabe Feria. This colourful event is a riotous combination of flamenco music, parades of horsemen and women, typical dances of Andalusia, pop music and Marbella club for the young people. Celebrations where the smell of orange blossom drenches the De los Naranjos Square, and citizens and visitors throng the Old City's streets, squares and bars from early morning as Marbella weather is great almost all the year. Strangers shake hands to show their friendship and respect, toast each other with a glass of wine, and continue celebrating far into the night.

Marbella City Council
Address: Plaza de los Naranjos s/n, 29601 Marbella (Malaga).
Phone Number: +34 952 761 100.
Website: www.marbella.es.
View the map of Marbella.
Find more information about Malaga.