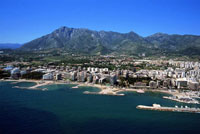 What better place to go on holiday than Marbella with its sandy beaches, partys and tourist sites. This destination has become a favorite spot for big and small ones, who probably would not have imagined that this city which is considered one of the most cosmopolitan places of the Costa del Sol, for many years was just a fishing village.
And with an average annual climate of 20 degrees Celsius, an excellent gastronomy and a wide range of sporting, cultural and social events Marbella has become the premier choice for summer holidays of the rich and famous who have fallen for the beauty of the city and the amenities it offers.
But not only celebrities and "beautiful people" can enjoy Marbella. In recent years the hotel industry has increased in this city and thus there are many hotel deals for everyone and every year we get benefits by the packages they offer.
You can find from basic hotels (two stars) to five stars hotels in Marbella, with prices from 30 Euros up to hundreds of Euros per night. The services offered by hotels will depend on the level they have; in the case of basic hotels or two stars guests generally have the right to air conditioning and / or heating, or satellite TV, room service, internet access and breakfast buffet. You can also go to the reservation of Hotels in Marbella (www.malagaholidays.com ) and thus you will be well informed of the features of each of them before choosing which one is best for you.
If the hotel is a 3 or 4 stars it generally includes the following services: satellite TV and / or cable TV, Minibar, air conditioning and / or heating, balcony or terrace, room service, billing service 24 hours, safe, lifts, shops, bars, restaurants, medical service, swimming pools, direct dial telephone, etc.
When the hotel where you stay is a five stars, the attention you receive will be excellent, as you will enjoy having several benefits ranging from exclusive room service, access to exclusive areas of the hotel and spas, casinos, restaurants, bars etc. Besides you are offered facilities to practice a wide range of sports and you have at your disposal some of the best golf courses along the Costa del Sol.
The important thing is that anyone can go to Marbella and fully enjoy the activities offered by the city that not only is recognized nationally but also internationally, and is considered one of the main attractions of Spain, relating to beach tourism.
So go already planning your next vacation, the beaches of the Costa del Sol are awaiting you. Planning your vacation in advance makes a difference in finding much cheaper deals for both flights, hotel and car rental at Malaga airport.
Tags: Costa del Sol, Marbella Hotels