Travel guide to the Costa Del Sol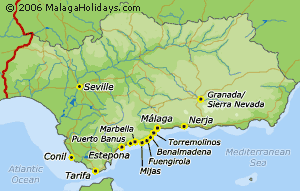 When people think of holidays in Spain, they often associate with that the image of Southern Spain. Malaga, situated in the homonymous province on the coast, is the inofficial capital of the Costa del Sol and possesses the most important airport in Andalusia, where tourists visiting the coast usually arrive at.
Stretching from Gibraltar in the far west until Nerja in the east, the Costa del Sol occupies a coastline of approximately 200 km and includes towns like Marbella, Mijas, Fuengirola, Benalmadena, Torremolinos, Malaga, Rincon de la Victoria and Velez-Malaga.
The Costa del Sol is particularly famous for its marvellous sandy beaches, its exciting night life, the wide-ranging local and international cuisine, the enormous choice of hotels and leisure activities as well as the historic sights of the towns along the coast. Another significant reason for its popularity with foreigners is the warm and sunny climate.
The Costa del Sol offers between 300 and 320 sunny days per year, with hot, dry summers and moderate, springlike winters. This is why Malaga and the Costa del Sol are definitely worth a visit for tourists, who want to spend relaxing holidays at the beach combined with cultural excursions, party nights and excellent local gastronomy.